Deacons Ministry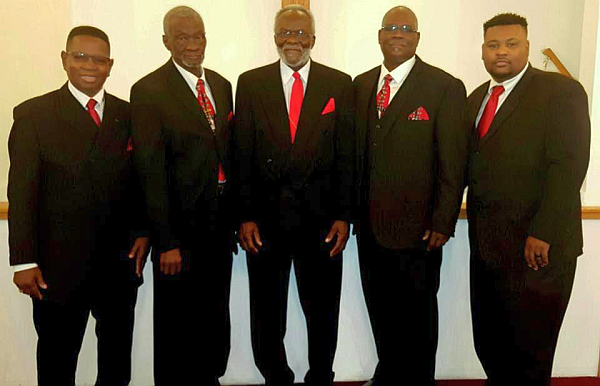 Likewise must deacons be grave, not double tongued, not given to much wine, not greedy of filthy lucre; Holding the mystery of the faith in a pure conscience. And let these also first be proved; then let them use the office of a deacon, being found blameless. 1 Timothy 3:8-10 (KJV)


ESSENTIAL DUTIES AND RESPONSIBILITES
Be a servant to my Pastor and church. Assist my Pastor and do all I can to support him as God's leader; be consistent in my study of the Word of God, showing myself approved and a workman unto God. Live up to the qualifications of a deacon found in 1 Timothy 3:8-13; Acts 6:4-5
Additional duties and responsibilities in the Office of Deacon are to serve communion, baptize new converts, maintain building and grounds of the church.
Congregational Care Ministry
The Ministers and Deacons are leaders of the Congregational Care ministry. The congregation would be divided up so that each member has an assigned a Minister and a Deacon who would be responsible to determine the spiritual and physical needs of all members of the congregation by home or phone visitation.
Evangelism/Outreach Ministry
This ministry is designed to spread the Gospel of Jesus Christ throughout the community. Members who actively serve in this ministry should have a burden for the unsaved to be saved to bring others closer to the Lord. The goal (s) of this ministry is to bring increase to God's Kingdom by sharing the Gospel of Jesus Christ so that many may be saved. Participants are members who have a willing spirit and a desire to help the lost.
Free Indeed Ministry
This ministry is designed for members and families who are struggling with addictions. This meeting addresses all types of addictions: such as alcoholism, chemical dependency, co-dependency, eating disorders, gambling, smoking, and any other addictive behavior. The goal of this ministry is to provide an opportunity for deliverance from addiction, to increase the studying of God's word, and to gain and give support of other individuals who have been victims of addictive behavior.


This ministry is designed for you, if you are struggling with an addictive behavior (s). If you are willing to share and support, as well as receive support, you are encouraged to participate in this ministry. Spiritual gifts necessary for this ministry includes love and the gift of mercy that thrives on seeing God's plan of redemption worked in the lives of others.
LIFE of the Harvest Youth Ministry / Youth Church (Ages 12 and up)
This ministry focus is for our youth of COTH. The goal (s) of this ministry are to encourage, educate, and equip our youth to grow in Christ and increase their faith. Also, to use this knowledge so they can pass on what they have learned to others through words, deeds, and actions to advance the Kingdom of God.
Greeters/Hospitality Ministry


This ministry is designed to welcome visitors and guest to COTH. Members who would like to participate in this ministry should have a desire to serve God with gladness and, who enjoy meeting and greeting new people. The goal (s) of the Hospitality Ministry is to make all who enter the doors of COTH feel welcomed and comfortable.
Ushers Ministry


Our mission is to "Serve" in obedience to "God", Pastors and our Christian brothers and sisters in the Lord Jesus Christ. We are honored to server as doorkeepers of the house of the Lord and we gladly and willingly take our post at anytime to serve. We help escort worshipers into the sanctuary and provide assistance through the worship experience to help facilitate an atmosphere conducive for worship.
Health and Wellness Ministry

This ministry is designed for the congregation of COTH. Members who should participate should be anyone interested in promoting health and wellness in the congregation. The goal (s) of this ministry are to promote health and wellness in the congregation as well as provide access to preventive health care measures. Our ministry is working to decrease racial and ethnic disparities within health care.
The Watchman's Ministry – Security/Parking Ministry
This ministry is designed for the congregation of COTH and the surrounding community. Members who should be spiritually mature members of the congregation. The goal (s) of this ministry are to provide security, support, and protection for the church and its members.
Discipleship – Christian Education
Bible Class, Sunday School Ministry, New Membership
These classes are designed to encourage all members to attend bible class, Sunday School, New Membership and encourage weekly bible study as well as learn the bible as they learn the Lord. The goal (s) of these ministries are to grow in biblical understanding and make proper life application of God's word to your lives in order to live lives that are pleasing and acceptable to God. Necessary for this ministry is a commitment to Christ as Savior and a desire to grow.
Bereavement Ministry
To minister by extending comfort, care and spiritual support for bereaved families throughout their grieving process. The ministry is built on God's word and ministers under the guidance of the Holy Spirit. Above all, the ministry encourages the grieving to "cast their burdens on the Lord and he shall sustain them." Psalms 55:22
MIA Ministry
This ministry is designed to minister to the sick and shut-in; people in the hospital and their families. Members who participate in this ministry should have a heart for ministry/service and be willing to follow or lead when called upon. The goal (s) of this ministry are to develop skills in the ministry of visitation, community service, out-reach. Members who participate must have a willingness to serve and to use their gifts toward the furtherance of the ministry to those who are in need of special care as we share ourselves as instruments of God's grace.
Real Talk
REAL TALK is for Real People with issues concerning their spiritual and natural life. No questions is crazy! Any and all questions are accepted. People need Real Talk with Real People!
Married Couples' Enrichment Ministry
The Married Couples' Ministry seeks to glorify God by the strengthening of marriages through Biblically based principles and programs that seek to keep the fire burning in marriage. The mission of this ministry is to provide Biblically - based principles, holistic, Christian instruction, fellowship opportunities and a safe haven where the covenant union between a man and a woman shall be nurtured and supported by offering relevant, structured and practical Godly solutions to the daily issues of life.
SOS Ministry (Seasons of Singleness)
This ministry is designed for single people who are single by change (windowed/divorced) or by choice. Members who participate in this ministry should be single people looking for guidance or singles with experience to guide other singles. The goal (s) of the SOS Ministry are to teach people what to do while in a season of singleness and to know how one can best serve God.
Women's Ministry
The mission of the COTH Women Ministry is to help women of all ages. To equip them to be Godly women. To be role models for the younger women. To deepen her faith and have a personal relationship with Christ, family and the church.
Men's Fellowship
This ministry is designed for men of all ages. If you are a male member of COTH and desire fellowship with other believers in Jesus Christ and who have a desire to grow spiritually you should participate in the men's fellowship.
Children's Ministry
Here at the Church of the Harvest, we know that we must prepare the next generation in the things of God and give them a solid foundation in the Word of God. Our Children must know God's preeminent power and recognize his mercy and grace at this age. It's imperative that your children understand the providential power they have inherited through Jesus Christ and how to not only preserve your family's legacy, but how to establish a legacy of their own.
Seasoned Saint Ministry (Mother's Ministry)
The Mother's Ministry is a seasoned Saint (Woman) who has experience and consecration in their life. The purpose of this ministry is to give proper support to the Pastor and give spiritual counseling to the women of the church, and to teach proper Christian behavior and conduct to the young women, men and children of the church.


Intercessory Prayer Ministry
Intended to teach praying saints to pray in behalf of the Pastors, Church, and people in need of divine help bombarding heaven daily with prayer.
Administration Ministry


E-Ministry
This ministry is designed for all computer users and internet users. Members who participate in the e-ministry should be experience with web design, publishing, html, macro media flash, and adobe software. Members should be willing to serve. The goal (s) of the e-ministry are to equip COTH membership and the world with access to COTH Church ministry through the worldwide web.
Communications Ministry
This team is designed for all members with a marketing background and who enjoy strategizing ways to promote COTH internal and external. Members should have a vast knowledge of marketing trends, advertising and ways in which to promote special events. This team is also a great fit for graphic designers who are creative and able to design flyers, brochures and mailers.
Multi-Media/Audio-Visual Ministry
This ministry is designed for members who have some experience (male/female) or a gift to function in the technical area. The ministry handles all sound, recording, video and duplication of CDs, and DVD. This ministry will be responsible for Sharing God's Love.
The Bishop's Pantry
Angel Food Ministries provides restaurant quality food at a minimum cost. The food is delivered to thousands of host sites once each month. We see the "need to feed" spiritually and physically and we are excited about our involvement with this ministry. There are no qualifications, minimums, income restrictions, or applications. Everyone is encouraged to participate.